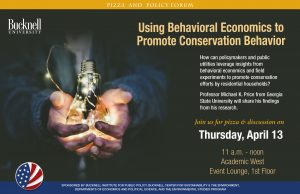 Join us Thursday, April 13th from 11:00am to noon at Academic West in the Event Lounge for a special Pizza & Policy.
Michael Price from Georgia State University will be sharing his findings from his research on how policymakers and public utilities leverage insights from behavioral economics and field experiments to promote conservation efforts by residential households.
Professor Price has lead collaborations with several public utilities around the globe and private companies such as Opower and WaterSmart that work with public utilities to promote conservation behaviors. His results have been published in several leading journals in economics including the American Economic Review, the Quarterly Journal of Economics, the Review of Economics and Statistics, the Journal of Public Economics, and the Journal of the Association of Environmental and Resource Economists.
Michael Price is an Associate Professor in the Department of Economics at George State University and a Research Associate at the National Bureau of Economic Research.
This event is co-sponsored by the Bucknell Institute for Public Policy, Bucknell Center for Sustainability & the Environment, Departments of Economics and Political Science, and the Environmental Studies Program.