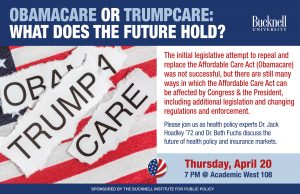 "Obamacare or Trumpcare: What Does the Future Hold?"
Location:  Academic West 108
7:00 PM April 20, 2017
The initial legislative attempt to repeal and replace the Affordable Care Act (Obamacare) was not successful, but there are still many ways in which the Affordable Care Act can be affected by Congress & the President, including additional legislation and changing regulations and enforcement.  Please join us as health policy experts Dr. Jack Hoadley '72 and Dr. Beth Fuchs discuss the future of health policy and insurance markets at 7:00 PM April 20, 2017 in Academic West 108.
Jack Hoadley '72
Jack Hoadley is a health policy researcher with over 30 years of experience.  As a Research Professor in Georgetown University's Health Policy Institute, he conducts research projects on health financing topics.  A primary focus has been on prescription drug issues and the Medicare Part D drug benefit, including spending trends, out-of-pocket costs faced by beneficiaries, and the dynamics of enrollees' decisions to switch plans.  Other recent projects have focused on consumer protections around balance billing, insurance exchanges under the Affordable Care Act, and the impact of Medicaid managed care on health care delivery.  Dr. Hoadley was reappointed in 2015 to a second three-year term on the Medicare Payment Advisory Commission (MedPAC), which makes recommendations to the U.S. Congress.  He holds a Ph.D. in political science from UNC-Chapel Hill and a B.A. in math from Bucknell.  Prior to arriving at Georgetown in 2002, he held staff positions at the Department of Health and Human Services, MedPAC, the Physician Payment Review Commission, and the National Health Policy Forum.
Beth C. Fuchs, Ph.D.
 Beth became a Principal at Health Policy Alternatives (HPA), a Washington, D.C.- based consulting firm, in 1998. At HPA, Beth  specializes in health care reform, including the Affordable Care Act and Republican alternatives, Medicare, prescription drug issues, private health insurance, and a number of other issues related to federal health policy. Before joining HPA, she was a specialist in health policy at the Congressional Research Service (CRS) of the Library of Congress. At CRS, she assisted the Congress in developing and analyzing health legislation and wrote numerous reports on major health policy issues.  Her areas of specialization included private health insurance, regulation of managed care, employee health benefits (including ERISA), Medicare, and health systems reform.  She also had extensive involvement in major legislation, including numerous budget reconciliation bills and the Health Insurance Portability and Accountability Act. Prior to working at CRS, Beth served as a professional staff member for the Senate Special Committee on Aging and as a legislative assistant for a member of the House of Representatives.  She was awarded an American Political Science Association Congressional Fellowship in 1981-1982.  Beth also taught political science and public policy at Duke University and the University of North Carolina at Chapel Hill.  She received a Ph.D. in political science from the University of North Carolina at Chapel Hill, M.Sc. in politics from the London School of Economics, and B.A. in Political Science from the College of Public Affairs at American University