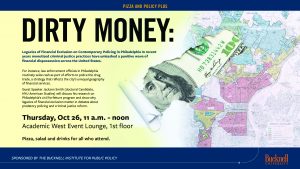 There will be discussion on the legacies of financial exclusion on contemporary policing in Philadelphia. In recent years monetized criminal justice practices have unleashed a punitive wave of financial dispossession across the United States.
Guest speaker Jackson Smith (doctoral candidate, NYU American Studies) will discuss his research on Philadelphia's civil forfeiture program and show why legacies of financial exclusion matter in debates about predatory policing and criminal justice reform.
Please join us on Thursday, Oct. 26, from 11:00a.m. – 12p.m. in the Academic West Event Lounge on the 1st floor.
Pizza, salad and beverages for all who attend.