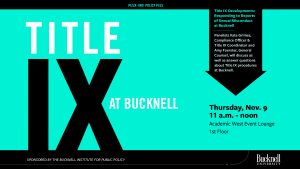 Participate in a discussion about Title IX Developments: Responding to Reports of Sexual Misconduct at Bucknell. Panelists Kate Grimes, Compliance Officer & Title IX Coordinator and Amy Foerster, General Counsel, will discuss as well as answer questions about Title IX procedures at Bucknell.
Please join us on Thursday, Nov. 9 from 11:00 a.m. – 12 p.m. in the Academic West Event Lounge on the 1st floor.
Pizza, salad and beverages will be provided for all who attend.
Sponsored by Bucknell Institute for Public Policy