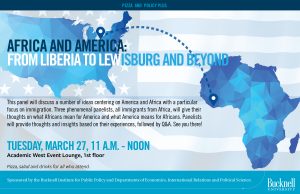 We encourage you to join us on Tuesday, March 27, 11:00am – 12pm in the Academic West Event Lounge on the 1st floor for a Pizza and Policy Forum called, Africa And America: From Liberia To Lewisburg And Beyond. The panel will discuss a number of ideas centering on America and Africa with a particular focus on immigration.
Pizza, salad and beverages will be provided for all who attend.
The following three panelists will provide thoughts and insights based on their experiences, followed by Q&A.
Donatien Adou: Born in Côte d'Ivoire, Donatien received his BA in Political Science from International University of Grand Bassam.  Currently, he is pursuing his PhD in Political Science from the University of Missouri.  His research interests include public policy in Africa, comparative politics, and political economy.
Eric Djakale.  Born in Côte d'Ivoire, Erik studied Biology and French and worked at the International University of Grand Bassam.  In 2016 he was able to emigrate to Canada where he currently lives and teaches French in Toronto.
A.J. Kizekai.  Born in Liberia, A.J. came to the U.S. at a young age and grew up in Rhode Island.  An economics major at Bucknell, A.J. played football at Bucknell and set many records that still stand today.  He is currently Director of Operations and Events in Bucknell's Athletic Department.