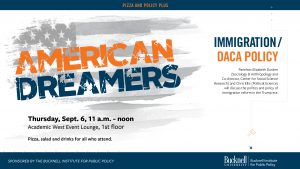 We encourage you to join us on Thursday, September 6, 11:00am – 12:00pm in the Academic West Event Lounge on the 1st floor for a Pizza and Policy Forum on Immigration/DACA Policy.
Panelists Elizabeth Durden (Sociology & Anthropology and Co-director, Center for Social Science Research) and Chris Ellis (Political Science) will discuss the politics and policy of immigration reform in the Trump era.
Pizza, salad and beverages will be provided for all who attend.