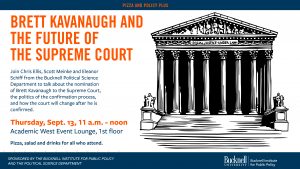 We encourage you to join us on Thursday, September 13th, 11:00am – 12pm, in the Academic West Event Lounge on the 1st floor for a Pizza and Policy Forum on Brett Kavanaugh and the Future of the Supreme Court.
Join Chris Ellis, Scott Meinke and Eleanor Schiff from the Bucknell Political Science Department to talk about the nomination of Brett Kavanaugh to the Supreme Court, the politics of the confirmation process, and how the court will change after he is confirmed.
Pizza, salad and beverages will be provided for all who attend.