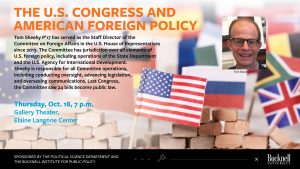 Join us in the Gallery Theater in the Elaine Langone Center on Thursday, Oct. 18th at 7 p.m. to hear Tom Sheehy, P'17 give a talk on the U.S. Congress and American Foreign Policy.
Tom Sheehy has served as the Staff Director of the Committee on Foreign Affairs in the U.S. House of Representatives since 2013. Chaired by Representative Ed Royce, a Republican Member of Congress from Orange County, California, the Committee has jurisdiction over all elements of U.S. foreign policy, including operations of the State Department and the U.S. Agency for International Development. Sheehy is responsible for all Committee operations, including conducting oversight, advancing legislation, and overseeing communications. Last Congress, the Committee saw 24 bills become public law. These laws include legislation imposing sanctions on North Korea and Iran, combatting wildlife trafficking, and promoting electricity in Africa. Committee priorities this year include improving U.S. international broadcasting, consolidating U.S. export promotion programs, and recasting food aid to save more lives overseas. Sheehy previously served as the Staff Director of the Africa Subcommittee and the Terrorism, Nonproliferation and Trade Subcommittee. He has traveled extensively, particularly in Africa. Before joining the Committee, he was a policy analyst at the Heritage Foundation, focused on international trade and development and Africa. Sheehy received a B.A. degree from Trinity College (Hartford, Connecticut) and an M.A. in international relations from the University of Virginia. He lives in Arlington, Virginia with his wife Elizabeth.
Sponsored by the Department of Political Science, the Bucknell Institute for Public Policy and the Career Development Center.