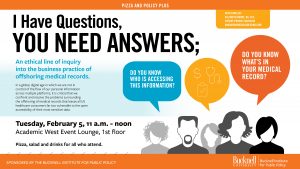 We encourage you to join us on Tuesday, February 5 from 11:00am – 12:00pm in the Academic West Event Lounge on the 1st floor for a Pizza and Policy Plus event on offshoring medical records and patient privacy.
Do you know what is in your medical record? Do you know who is accessing this information? In a global, digital age in which we are not in control of the flow of our personal information across multiple platforms, it is critical that we confront and resolve the problems surrounding the offshoring of medical records that leaves all US healthcare consumers far too vulnerable to the open accessibility of their most sensitive data.
Guest speaker, Elizabeth Burke CCS, has over 13 years of experience in both health information management and healthcare finance. In addition to consulting and coding, Elizabeth has experience as an auditor, appeals author and coding educator. This is her first public awareness campaign as a patient privacy advocate. The campaign launched in the summer of 2018. Additional information can be found on the speaker's website below:
https://www.whohasmymedicalrecord.com/
Elizabeth Burke will remain in the lounge after the event for an additional hour (from 12-1 p.m.) to field extra questions and continue the conversation.
Pizza, salad and beverages will be provided for all who attend.