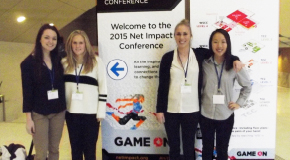 This semester, BIPP sponsored two groups of students to travel to various conferences and share what they've learned on a student-led panel. One conference focused on women's presence and influence in policy and government, while the other was centered on sustainability in both public and private sectors. Both panel events corresponding with the conferences, '2016: The Year of the Woman?' and 'Future of Sustainability' mark the first student-led Pizza and Policy sessions. It sets a precedent for the Institute's collaboration with various student groups on campus to bring policy to the campus agenda.
Meghan Byrd, '16 and Amanda Battle, '18 attended the 22nd Annual Women's Leadership Forum in Washington, DC. On November 17, the '2016: The Year of the Woman?' Pizza and Policy was held, in which they discussed the huge impact women have in directing policy.
The second policy topic of sustainability emphasized heavily collaborative efforts in various sectors. Four students, Katie Cappola '17, Liz Daniels '16, Marissa Graham '16, and Jenn Ohn '16, travelled to Seattle to attend the national Net Impact Conference. Net Impact is an on-campus student organization that is a part of a national Net Impact network that works to empower students and professionals to get involved in and share advances in sustainability efforts. The students shared what they learned on how not only is sustainability an issue for the environment; it is for corporations, government, and the non-profit sector, in guiding larger scope policy changes. "The Net Impact conference showed us how to think about sustainability. They put our education into context," says Marissa Graham, '16.