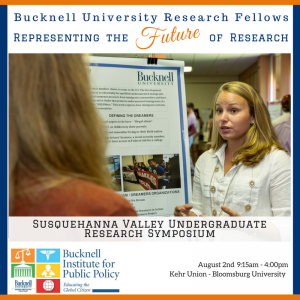 The 7th Annual Susquehanna Valley Undergraduate Research Symposium (SVURS) was held on August 2, 2017 at Bloomsburg University. The symposium is a collaborative regional event for students from central Pennsylvania to showcase summer research projects. Students participating in the event are from Bloomsburg University, Bucknell University, Geisinger Health Systems, and Susquehanna University.
The symposium provides students with the opportunity to participate and practice presentations skills in a professional conference near their universities. Students are required to submit an abstract of research, design a research poster, and prepare a two-minute oral presentation for judges in one of the four research catagories: Social Science & Humanitites, Biological Science, Natural Science & Engineering, and Clincial & Translational Research. Also students apply for one of the four 10-minute oral presentations.
Five awards are presented to students. A "Best Poster" is award from each category and an Audience Choice Award is selected by peers. This year, Bucknell Student Dante Fresse was selected as the Best Poster in the Social Science and Humanities category. Dante's research poster, "Bucknellians in World War I", focused on military careers and lives of Bucknell alumni who served in the First World War. David Del Testa, History Department, mentored Dante throughout his summer research project.
Representing Bucknell University at the SVURS were 35 students in categories of Social Science and Humanities, Clincal and Translational, Biological Science, and Natural Sciences and Engineering.
Brian Babyak, "Exploring Benefits, Barriers, and Perceptions of Adopting Biogas Technology".  Mentor: Shauna Barnhart. Authors: Brian Babyak, Chris D'Aliso, Shaunna Barnhart.
Mitchell Buccalo, "The Study of E-Cigarette Coils at Varying Temperatures". Authors: Mitch Buccalo, Timothy Raymond, Dabrina Dutcher, Monica Hoover.
Tyler Candelora, "Pennsylvania Anthracite Coal Miners: Self-Representation and Memorialization". Mentor: Carrie Pirmann, Courtney Paddick.
Cristian Carrillo, "Does Immigration affect wages in the U.S. cities?" Mentor: Chris Magee.
Kathyrn Chesebrough, "Chinese Investment in Western (EU) Economies: Challenges and Uncertainties Facing China's 'Belt and Road Initiative'". Mentor: Zhiqun Zhu.
Emma Downey, "Religious Diversity at Bucknell: A History, Policy and Advocacy". Mentor: John Penniman. Authors: Emma Downey, Daphne Ratnarajah, Dr. John Penniman.
Max Fathauer, "Authentic Living and the Other". Mentor: Adam Burgos.
Jordan Ferrari, "Immigration Policy in the United States". Mentor: Elizabeth Durden.
Assumpta Ishimwe Gasana, "Transportation Assessment and Resilience in Natural Disasters". Mentor: Corrie Walton-Macaulay.
Jillian Gosling, "Paternal Involvement in Childcare and Research for Children with Disabilities". Mentor: Barbara Haas-Givler, Cora M Taylor Authors: Jillian Gosling, Barbara Haas-Givler, Cora M Taylor, Lauren Kasparson – Bucknell University & Geisinger Health Systems.
Nicolas Harris, "Technological Unemployment". Mentor: Janet Knoedler.
Daniel Hayes, "Ex situ interspecies crossing rates infer importance of geographic barriers in speciation among closely related Solanum species of the Australian Monsoon Tropics". Mentor: Christopher Martine. Authors: Daniel Hayes, Angela J McDonnell, Jason T. Cantley, Christopher T. Martine.
Hollis Jacoby, "Determining the Hygroscopicity Parameter of Secondary Organic Aerosols Formed from Monoterpenes". Mentor: Dabrina Dutcher.
Trey Johnson, "The Psychological Well Being of Black Students at a PWI". Mentor: Jasmine Mena.
Chase Kravetz, "Making Paths towards Health and Wellness: developing a student/faculty/community fitness app". Mentor: Katherine Faull, Stu Thompson. Authors: Austin O'Neil, Chase Kravetz, Katherine Faull, Stu Thomson, Jacob Mendelowitz.
Oliva Langa, "Is the gorilla invisible because we don't look at it, or because we don't see it? An eye-tracking study of inattentional blindness in adults". Mentor: Vanessa Troiani, Christopher Chabris. Authors: Oliva Langa, Yilan Miao, Antoinette DiCriscio, Vanessa Troiani, Christopher F. Chabris.
Nathan Lesnevich, "Integrating Diurnal Cycles into the HPA axis in HumMod". Mentor: Christopher L Dancy.
Yunyingying Xu, "Closed-Loop Assistant: A proof-of-concept demo of connected and semi-automated medical devices". Mentor: Philip Asare. Authors: Sarah Xu, Chen "Raphael" Liu, Win Kyaw.
Xu Minglu, "China's Internet Wave". Mentor: Courtney Paddick, Carrie Pirmann.
Autumn Patterson, "Examining Economic Mobility through the Lens of Higher Education". Mentor: Janet Knoedler. Authors: Autumn Patterson, Emily Tevebaugh.
Colin Randles, "Fiscal and Monetary Policy after the 2008 Financial Crisis".  Mentor: Geoff Schneider.
David Schwartz, "Applying the Effects of Stress into a Cognitive and Physiological Model". Mentor: Christopher Dancy.
Avery Snyder, "Establishment of guidelines for microindentation of soft materials using blunt tips". Mentor: Donna Ebenstein.
Dalton W. Stewart, "Regional Differences in Municipalities' Flood Policies: Under-Insurance and Community Resilience in Pennsylvania". Mentor: L. Donald Duke.
Emily Tevebaugh, "Examining Economic Mobility through the Lens of Higher Education" Mentor: Janet Knoedler. Authors: Emily Tevebaugh, Autumn Patterson.
Grevelin Ulerio, "Ethno-Racial Socialization". Mentors: Jasmine Mena.
Alison Varano, "Reported Opioid Overdose Deaths in Northumberland County: Epidemic or Not?" Mentor: Carl Milofsky.
Ashley Vecchio, "Risk and Reward in Energy Development during the 1970's: The Case of the Beaufort Sea". Mentor: Andrew Stuhl.
Aliqiu Wang, "Computational studies of mixed metal cluster stability". Mentor: William D Kerber.
Marlee Faye Warwick, "Intersectionality in Politics: Substantive Versus Descriptive Representation in the Political Activism of African American Women". Mentor: Atiya Stokes-Brown.
Muxi You, "Using FTIR to Predict Saccharification From Enzymatic Hydrolysis of Ball Milled Biomasses". Mentor: Deborah Sills.
Juding this year's event from Bucknell University were Chris Magee – Social Science & Humanities, Anna Baker – Clinical and Translational Research, and Corrie Walton-Macaulay – Natural Science & Engineering.
The Bucknell Institute for Public Policy supports the SVURS through co-organizing the event, funding fellowships to students, as well as, leading weekly workshops to prepare fellows for the SVURS. Organizers from Bucknell University are Chris Magee, Amy Wolaver, and Gaynel Carrier.