By Brayden Zimmerman '20 and Will Bordash '18
Over the past few days, our country has gone through another episode of questioning our politics, our politicians, and our ideals after multiple pro athletes and pro sports teams decided to either stay in their locker room or kneel during the national anthem. President Trump spoke of this issue during the campaign last August, saying, "Well I have followed [the Kaepernick story], and I think it's personally not a good thing. I think it's a terrible thing. And you know, maybe he should find a country that works better for him, let him try, it won't happen." After this past weekend, Trump has made more comments regarding the issue, saying, "Wouldn't you love to see one of these NFL owners, when somebody disrespects our flag, say, 'Get that son of a b—- off the field right now. Out, you're fired!' "
Many politicians and pundits across the country have made their feelings clear, but a few fiery interviews don't tell the whole story about the way the American public truly thinks. This article tries to shed light on that. Using data from a nationally representative survey conducted in early September 2017 (see details on methodology at this link, we look at favorability ratings of Colin Kaepernick from this past summer to see how politics, identity, and other characteristics affect views of Kaepernick.
We asked Americans to rate how favorably they viewed Kaepernick (as well as several other American political and social figures) on a scale from 0 (very unfavorable) to 5 (very favorable). For purposes of these analyses, we divide responses into three categories: those who rated Kaepernick at  0 or 1 were considered to view him unfavorably, while those who rated him at 4 or 5 were considered to view him favorably. Those who rated him at 2 or 3 are considered to have middle-of-the-road, or mixed views.
All told, roughly 3 in 4 (72%) of Americans knew enough about Kaepernick to hold an opinion. Of these, 44% of Americans held an unfavorable view of Kaepernick, 25% viewed him favorably, and 31% held middle of the road views. Kaepernick, in other words, is generally viewed more unfavorably than favorably. These views, though, mask significant divides across political and racial lines.
We begin by looking at favorability of Kaepernick by vote in the 2016 election.
This result is very interesting. We see that 77%% of those who voted for Trump viewed Kaepernick unfavorably, while just 17% of those who voted for Clinton viewed him unfavorably. Conversely, we see that only 6% of those who voted for Trump viewed Kaepernick favorably, while 37% of Clinton voters did. Divides betweenClinton and Trump voters over views of Kaepernick were larger than divides between Clinton and Trump voters on many prominent policy issues, including support for upper-income tax cuts, environmental protection, and even support for a legalized "pathway to citizenship" for undocumented residents.
Next, we look at race.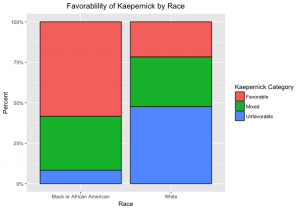 This result points to a significant racial divide in how Kaepernick is viewed. 54% of blacks viewed Kaepernick favorably, while only 8% viewed him unfavorably. For whites, the results are almost exactly reversed: just 14% of white Americans view Kaepernick favorably, while 54% view him unfavorably.
Next, we look at party.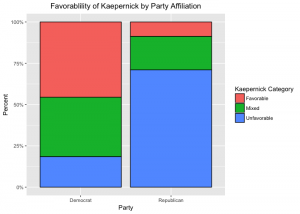 These results show what might be expected: Republicans tend to view Kaepernick less favorably than Democrats. But while the differences between Democrats and Republicans are large, they are smaller than the differences between Trump and Clinton voters. Only 56% of self-identified Republicans, for example, view Kaepernick unfavorably, while 77% of Trump voters do. These numbers give some credence to the idea that Trump worked to mobilize voters around issues of identity and a particular sense of patriotism, which is reflected in deeply unfavorable views toward the first NFL athlete to kneel for the national anthem to protest police violence.