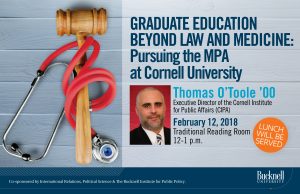 Students are invited to participate in a discussion about pursuing an MPA at Cornell University led by Bucknell alumnus Thomas O' Toole '00, Executive Director of the Cornell Institute for Public Affairs (CIPA).
Please join us on Monday, February 12th from 12-1 p.m. in Bertrand Library's Traditional Reading Room.
Lunch will be provided for all who attend.