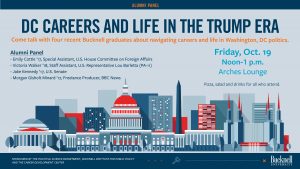 Come talk with four recent Bucknell graduates (Emily Cottle '17, Jake Kennedy '17, Morgan Gisholt Minard '17, Victoria Walker '18) about navigating careers and life in Washington, DC politics.
Friday, Oct. 19th, 12-1 p.m.
Arches Lounge
Pizza, salad and drinks for all who attend.
This event is sponsored by the Bucknell Institute for Public Policy, the Department of Political Science and the Career Development Center.