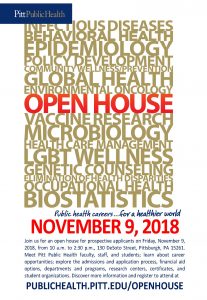 At the open house, students can learn how their interests and career goals can fit with public health disciplines. The departments include:
Behavioral and Community Health Sciences
Biostatistics
Epidemiology
Environmental and Occupational Health
Health Policy and Management
Human Genetics
Infectious Diseases and Microbiology
For additional information, email Renee Hill at rthill@pitt.edu. Students from many academic backgrounds and who are committed to making a difference in the world find their passion at Pitt Public Health.