BIPP student intern Yiwei Wang '19 and guest writer JP Stark '21 examine how NAFTA has evolved in the article below.
 A Closer Look to the Evolution of NAFTA
About 24 years ago, the North American Free Trade Agreement (NAFTA) was created with the intention of increasing wealth and competitiveness and delivering real benefits to families, farmers, workers, manufacturers, and consumers in the three participating countries, U.S, Canada and Mexico. Many economists expected NAFTA would smooth out the wage gap and income per capita between the three countries as well as resolve issues related to the U.S and Mexican economy as a whole.
In the advent of the new NAFTA, now called the United States–Mexico–Canada Agreement (USMCA), it is important to take a closer look of the old NAFTA through the lens of its economic and cultural impact before starting to fully grasp the myriad economic and political arrangements that were made with USMCA.
 Economic Reality of NAFTA
The idea of combining three countries in order to create a trade bloc was built upon each participating country offering a distinct comparative advantage, a key idea underlining the entire NAFTA. The U.S. offered advanced technology, Mexico had a competitive labor force and Canada offered abundant natural resources. The reality of the NAFTA however, didn't produce the desired effect to boost the economy. As Robert Blecker wrote in his essay, The Mexican and U.S. Economies After Twenty Years of NAFTA, "The Mexican industrial sector derives its dynamism mainly from the U.S industrial sector and not vice-versa.'" Thus, it is no surprise to discover that while the U.S enjoys relative higher earnings for all its multinational companies, the U.S. Bureau of Labor Statistics estimates that 5 million manufacturing jobs were lost in the process of this regional economic integration evident in the chart below.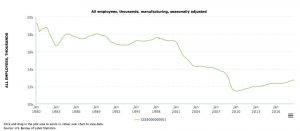 On the other hand, Mexican workers experienced a short period of increased wages at the end of the 1990s, as shown in the graph above. These wages were then followed by a sharp decline which have remained flat since the beginning of the early 2000s. Although we acknowledge that NAFTA was not responsible for the 1994 Mexico peso crisis, which resulted in a tank in wages for Mexican workers, it didn't provide the necessary fuel to bring the battered Mexican economy back on track either. As the chart above shows, jobs were not added back.
Another very important factor which hindered the growth of Mexican economy was its relationship with China. China entered the World Trade Organization (WTO) in 2001, acting as a potent trading partner around the world. Despite having a surplus in trade with the U.S, Mexico had an almost equal scale of deficit with China, which offset its surplus. Consequently, Mexico got no boost in its net employment and thus, the immigration flow to U.S was not mitigated under NAFTA, a view shared by Robert Blecker. Increased regional economic integration also came with the price of labor abuse and erosion of local cultures in Mexico, one of the key takeaways from my IP class, Memories of Neoliberalism. Manufacturing factories, also known as maquiladora, found a new home along the U.S-Mexico border, profiting from a cheap labor force, comprised primarily of women, by transgressing employees' basic human rights.
Cultural Reality Operating under Maquiladora
Recently, I watched a movie called Maquilapolis directed by Vicky Funari to learn more about maquiladora. It is clear to me that economic development brought jobs into Mexico at the expense of workers' human rights. The economic consequences of the implementation of NAFTA had a great impact on Mexican cultural values. Within the treaty, cheap Mexican workers were exploited on a level that raises human rights violation concerns; poor living and working conditions with ultra-low pay. "The factory also refused to give workers safety gloves, forcing them to handle sharp metal parts with their bare hands and causing their hands to become cut up and bloodied", was revealed in the recent WIDE+ report supported by the European Commission on "Women's Labour Migration in the Context of Globalization". The collateral damage that has been done to women and other social minority groups is significant and has destabilized the very fabric of social values.
 The Arrival of USMCA
The USMCA, builds on the NAFTA framework, but tinkers with specific provisions. The most significant changes include countries of origin, labor provisions, access to the Canadian dairy market and pharmaceutical protection.
Economic Impact
The economic impact of this new trade deal is incredibly difficult to quantify due to the intricacies of international trade and the large effects that small changes can have. The Countries of Origin clause in USMCA states that 'in order to qualify for zero tariffs, cars and trucks must have 75% of their components manufactured in Mexico, Canada or the U.S.'  Previously, the requirement was 62.5%.
Still, if the USMCA trade deal is successfully passed by Congress, a substantial ramification will be the introduction of a Labor Provision, intended to provide protection for workers in all three countries. In order to be tariff free, an increased percentage of the overall production, topping out at 40% in 2023, would have to be manufactured in high-wage factories, defined as $16/hour, outlined in the agreement. The goal would be to force automakers to shift production from Mexico, to either Canada or the U.S according to the New York Times. But it's not always so straightforward. Two potential downsides of this are that manufacturing could shift to other low cost countries, such as China, or, it could simply pass on increased costs to American car buyers. Another possibility is that the impact would be insignificant, because the $16/hour has not been indexed to inflation.
The USMCA also lowers trade barriers for American dairy farmers to sell dairy products, including cheese and milk to Canada, according to Brinkley from Forbes. This would be well received in a few specific states. However, the net impact on trade from this change is not significant. Many other industries were ultimately not incorporated in the deal. Trump insinuated that applying tariffs to auto imports from Canada and Mexico would be a priority but backed down on this issue quietly when it came time to negotiate the actual deal. Likewise, the vast majority of existing tariffs such as the U.S. tariffs on the imports of steel and aluminum were left unchanged. Effectively, far more remained the same than was changed. One other pivotal addition to the deal serves to protect U.S. pharmaceutical companies. The USMCA extends the patent protection of U.S. biologics to 10 years in both Canada and Mexico. 'This change benefits the pharmaceutical industry but not consumers' says Kirby from Vox.
With any trade agreement, the devil is in the details. Economists provide detailed forecasts, but variance can be high. This means that the monetary outcome of this new deal cannot be calculated accurately. Unlike the original NAFTA which had legitimate economic goals, the primary goals of the USMCA are purely political, but wrapped in the blanket of economics.
A Political Victory
Both President Trump and Canadian Prime Minister Justin Trudeau are touting the USMCA as a political victory regardless of the actual economic impacts it will have. Both leaders have used the deal as an opportunity to show their ability to work with other leaders. "It's not NAFTA redone, it's a brand-new deal," President Trump said at the White House in October. Trudeau has focused on the positive impacts of cooperation with other world leaders to bolster his image. Trump has chosen to showcase his ability to negotiate hard and be tough on other leaders in order to protect U.S interests. Due to the political ramifications of a successful trade deal nearing election season one should be skeptical of the news coming from any administration.
Trump has long said his goal in revamping the North American Free Trade Agreement was to return lost manufacturing jobs to American shores, discourage future outsourcing of factory work and "send cash and jobs pouring into the United States." Effectively, Trump's talking points all suggest the priority is protecting jobs, but there are many cases where his specific objective is maximizing profits for an industry such as pharmaceuticals, in an already quite profitable industry. For example, Pharmaceutical Research and Manufacturers of America argues that by lengthening the protection for biological drugs to ten years instead of the five in Mexico and seven in Canada, the deal delivers more profits to drug companies which results in price increases to consumers who need the drugs.
To sum it up, the USMCA doesn't seem to address the fundamental problems as presented in its predecessor, NAFTA. Instead, the USMCA appears to favor the corporation over the commonwealth of society. In many ways, the deal ultimately enriches the powerful and wealthy in society by providing them more tools such as, patents to crowd out the competition which drive up profits. It is evident that there is no stated desire to support the classic goals of multilateral trade deals by, for example, harmonizing regional economic development and controlling imbalance in immigration. Plainly speaking, this is naked realpolitik – what's in it for me? The definition of "me" is well worth considering in the first place.
Sources of Information:
Globalists Will Love Trump's New NAFTA Deal
https://www.bloomberg.com/view/articles/2018-10-01/globalists-will-love-trump-s-new-nafta-deal 
Trump's New NAFTA Pact Looks More Like a Rebranding Than a Revolution
https://www.bloomberg.com/news/articles/2018-10-01/trump-s-new-nafta-pact-looks-more-rebranding-than-revolution
USMCA Chapter 4 Rules of Origin
https://ustr.gov/sites/default/files/files/agreements/FTA/USMCA/04%20Rules%20of%20Origin.pdf
Cars, Cows and a Crisis Averted: Highlights of New NAFTA Deal
https://www.bloomberg.com/news/articles/2018-10-01/cars-cows-and-a-crisis-averted-highlights-of-a-new-nafta-deal
IMF: Trade Tensions and Tariffs a Major Threat to Global Economic Growth
https://apple.news/AqKrl_a53QjGHw2unqkiMNg
Blecker, Robert Allen. "The Mexican and US Economies After Twenty Years of NAFTA." International Journal of Political Economy: A Journal of Translations 43.2 (2014).
NAFTA Economic Impact
https://www.cfr.org/backgrounder/naftas-economic-impact
USMCA Summary and Political Effects
https://www.vox.com/2018/10/2/17923638/usmca-trump-nafta-trade-agreement
Trump Just Ripped Up NAFTA. Here's What's in the New Deal.
https://www.nytimes.com/2018/10/01/business/trump-nafta-usmca-differences.html
USMCA Is Not The Magnificent Trade Deal Trump Says It Is
https://www.forbes.com/sites/johnbrinkley/2018/10/08/usmca-is-not-the-magnificent-trade-deal-trump-says-it-is/#73c688ab4054
Trump's USMCA Delivers Big Wins to Drug Makers, Oil Companies and Tech Firms
https://www.washingtonpost.com/business/economy/trumps-usmca-delivers-big-wins-to-drugmakers-oil-companies-and-tech-firms/2018/10/02/2d68ad10-c66f-11e8-b1ed-1d2d65b86d0c_story.html?noredirect=on&utm_term=.ae1ff11502a7
RFI Comments on HHS Blueprint to Lower Drug Prices and Reduce Out-of-Pocket Costs
https://www.phrma.org/public-communication/rfi-comments-on-hhs-blueprint-to-lower-drug-prices-and-reduce-out-of-pocket-costs
*The Bucknell Institute for Public Policy (BIPP) is a nonpartisan institute. Guest writers' views on public policy are not endorsed by the Institute.