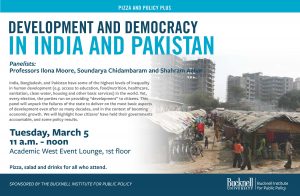 We encourage you to join us on Tuesday, March 5 from 11:00am – 12:00pm in the Academic West Event Lounge on the 1st floor for a Pizza and Policy Plus.
Join professors Ilona Moore, Soundarya Chidambaram and Shahram Azhar as they explore how India, Bangladesh, and Pakistan have some of the highest levels of inequality in human development (e.g. access to education, food/nutrition, healthcare, sanitation, clean water, housing and other basic services) in the world. Yet, every election, the parties run on providing "development" to citizens. This panel will unpack the failures of the state to deliver on the most basic aspects of development even after so many decades, and in the context of booming economic growth. We will highlight how citizens' have held their governments accountable, and some policy results.
Pizza, salad and beverages provided for all who attend.
Sponsored by Bucknell Institute for Public Policy