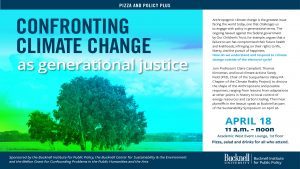 We encourage you to join us on Thursday, April 18th from 11:00am – 12:00pm in the Academic West Event Lounge on the 1st floor for a Pizza and Policy Plus.
Anthropogenic climate change is the greatest issue facing the world today, one that challenges us to engage with policy in generational terms. The ongoing lawsuit against the federal government by Our Children's Trust, for example, argues that a failure to act has compromised their future health and livelihoods, infringing on their rights to life, liberty, and the pursuit of happiness. How do we understand and respond to climate change outside of the electoral cycle?
Join Professors Claire Campbell, Thomas Kinnaman, and local climate activist Sandy Field (PhD, Chair of the Susquehanna Valley PA Chapter of the Climate Reality Project) to discuss the shape of the Anthropocene and possible responses, ranging from lessons from adaptations at other points in history to local control of energy resources and carbon trading. Then hear plaintiffs in the lawsuit speak at Bucknell as part of the Sustainability Symposium on April 26.
Pizza, salad and beverages provided for all who attend.
This event is sponsored by The Bucknell Institute for Public Policy, The Bucknell Center for Sustainability and the Environment and the Mellon Grant for Confounding Problems in the Public Humanities and the Arts