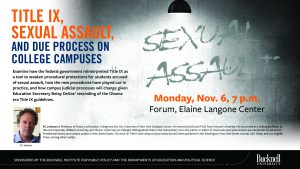 Examine how the federal government reinterpreted Title IX as a tool to weaken procedural protections for students accused of sexual assault, how the new procedures have played out in practice, and how campus judicial processes will change given Education Secretary Betsy Devos' rescinding of the Obama era Title IX guidelines.
KC Johnson is Professor of History at Brooklyn College and the City University of New York Graduate Center. He received his BA and Ph.D. from Harvard University. He has served as a visiting professor at Harvard University, Williams University, and Tel Aviv University (as Fulbright Distinguished Chair in the Humanities). He is the author or editor of nine books and several dozen journal articles on American Presidential history and campus politics in the United States. His work on Title IX and campus due process has also been published in the Washington Post, Wall Street Journal, USA Today, and Los Angeles Times, among other outlets.
Please join us on Monday, Nov. 6, at 7 p.m. in the Elaine Langone Center Forum.
This talk is sponsored by The Bucknell Institute for Public Policy and the Departments of Education and Political Science.