Each month, a new interview featuring a member of the Bucknell Institute of Public Policy (BIPP) Advisory Board will be posted on the official blog of BIPP. For the month of November, the interviewee is Matt Benjamin, a computer science major and graduate of the Class of 1990.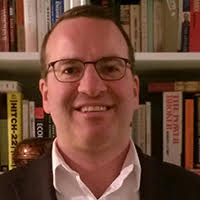 Matt Benjamin '95 is a graduate of Bucknell and a member of the BIPP Advisory Board. After earning a Master's degree at New York University (NYU), Benjamin worked as a journalist for a number of years for publications including The Wall Street Journal, Bloomberg News, and US News and World Report Magazine. Currently, Benjamin works as a freelance writer for organizations like the World Bank and the International Monetary Fund (IMF), for which he writes and edits papers about economic policy, trade, and development.
1. Can you discuss what you do as a member of the BIPP Advisory Board?
I've been on the Advisory Board about a year and a half now. We meet twice every year, semi-annually, once at Bucknell and once in Washington D.C. We try to stay in contact with professors and the Director of BIPP, and they let us know what's going on with BIPP and solicit feedback and advice from us.
When we meet, the professors and director go over the latest developments that have happened at BIPP and are coming up. We give feedback, opinions, and real world advice based on our experiences, and what we think would be most beneficial to the students and the program more broadly. We try to give some reasonable and sound advice and feedback to professors and directors at BIPP to make a stronger program that continues to grow. I think Director Amy Wolaver is doing a fantastic job running and growing the Institute.
2. I've read that you worked as a journalist for 14 years. Can you talk a bit about that experience? Why did you choose that field in particular?
It's a little bit closer to 16 years. I was drawn into journalism in my mid-20s…I'd always been a big consumer of journalism, periodicals, etc., and I had just gotten my Master's Degree in literature at New York University (NYU) [when I entered the career field]. I moved to Washington D.C., got an entry level job at a small periodical…I began to work as a media outlet for Wall Street Journal…and I eventually went to Bloomberg News, and that was my last formal journalist job, several years ago.
I loved being a journalist. That was a job where you learn every day about something new. I had taken some economics at Bucknell, but I was not an economics major, so most of what I learned about economics I learned on the job. I spoke with Nobel Laureates, officials from the White House…I got to see where the academic theories of the academic world meets reality in terms of monetary policy, fiscal policy, budgets.
My favorite places to work include Bloomberg News, which sent me to China for a month to do reporting there. I did a lot of really neat things for Bloomberg; I wrote a lot of stories on economic policies and politics. I also really enjoyed working for US News and World Report Magazine, [for which I] got to write to a very general audience….I came away from all my jobs richer for the experience.
3. What did you do as the Director of Political Economy for Medley Global Advisors?
At end of my journalism career, I was headhunted by Medley Global Advisors. They believed that my skills as a journalist would be useful there for economic stories, if not policy stories, so I would write very sophisticated reports for hedge funds. My job was to give [investors in these hedge funds] a notion of where economic, fiscal, monetary policy…might be going in the future so they could better align their investments. I followed all those things for about 6 and a half years.
Most years I would make a trip to Tokyo or other financial capitals in Europe…it was an interesting job.
3. Now you've moved on to to writing for the World Bank and International Monetary Fund. What do you write about?
After leaving Medley, I've been freelancing for a couple years now as a consultant for various publications and organizations. I have done and continue to do various things for them. World Bank…works to alleviate poverty in developing countries, the poorer nations of the world. I did various writing and editing for them and other publications regarding how to better make policy, better provide aid. For the IMF, which follows the world's economy, I did a lot of editing for their publication for pieces on global economies and trade.
4. You graduated in 1990 from Bucknell University. What did you major in and why?
I was a computer science major. Back in the late 1980s, computer science was a burgeoning field, very exciting. I also took a lot of english and political science courses, which were more indicative of where I would go. No complaints whatsoever, wonderful professors, great program.
I didn't enjoy the work I did at [NYU], and that's why I switched to pursuing the fields that I dabbled in at Bucknell. I went on to get a degree in literature at NYU, which really sold me on the idea of writing as a career. I really enjoyed writing long form papers there, and wanted to continue doing it.
5. Were you a part of any organizations or clubs on campus?
I was in a men's fraternity, a social fraternity. No, I don't think I belonged to any other organizations formally, but I did take advantage of much on campus…the free lectures they had at night in the Langone Center and other buildings on campus — lectures and speeches and seminars — I really enjoyed those. I did do a lot of that, and got the bug for public policy stuff.
I really liked the idea that individuals in governments or organizations can have an enormous effect or impact on many, many people. These organizations can be the Federal Reserve, the IMF, the World bank, it doesn't really matter what it is; they make decisions at a very high level, and make a big impact.
6. Do you have a favorite memory at the University, or an experience that you often recall when you think back on your time there?
First semester of my senior year, I took advantage of Bucknell in London. I went to London for a semester, and that was my favorite semester. I was in a completely new group…I studied something completely different from political science…I studied classical economics and theater. So I went to two dozen different theater productions and plays, two or three a week. And I really got a sense for British theater, and playwriting. Also, London historically has been a center for economic thinking and practice, a hub of the global financial and banking system.
7. What advice do you have for students currently studying at the University?
You should study what you enjoy. I found that I enjoyed more than the computer science classes, particularly the political science and the english classes, and it turned out that that's what I made a career of. I gravitated to what I enjoyed doing.
I would impart to students at Bucknell to study what you enjoy and make a career out of that. You'll end up both happier and wealthier.
8. Anything else you'd like to add?
As someone who is quite a bit older now, [I think that] students at Bucknell should relish the time they have as undergraduates. My memories at Bucknell are still among my happiest, and ones I cherish the most. I still have very good friendships that began there…students should realize how fleeting it is, but also realize how much there is to be enjoyed and take away from it.