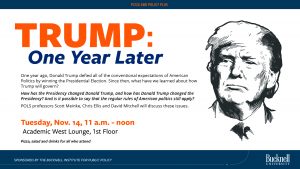 One year ago, Donald Trump defied all of the conventional expectations of American Politics by winning the Presidential Election. Since then, what have we learned about how Trump will govern?
How has the Presidency changed Donald Trump, and how has Donald Trump changed the Presidency? And is it possible to say that the regular rules of American politics still apply?
Participate in a discussion with Political Science Professors Scott Meinke, Chris Ellis and David Mitchell about this topic.
Please join us on Tuesday, Nov. 14, 11:00am – 12pm in the Academic West Event Lounge on the 1st floor.
Pizza, salad and beverages will be provided for all who attend.
Sponsored by Bucknell Institute for Public Policy