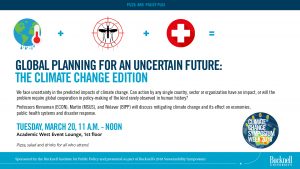 We face uncertainty in the predicted impacts of climate change. Can action by any single country, sector or organization have an impact, or will the problem require global cooperation in policy-making of the kind rarely observed in human history?
Participate in a discussion with Professors Kinnaman (ECON), Martin (MSUS) and Wolaver (BIPP) about this topic.
We encourage you to join us on Tuesday, March 20, 11:00am – 12pm in the Academic West Event Lounge on the 1st floor.
Pizza, salad and beverages will be provided for all who attend.
Sponsored by Bucknell Institute for Public Policy and presented as part of the Bucknell's 2018 Sustainability Symposium.